May 22nd: Later... tonight at 10.00pm on BBC Two
Later... with Jools Holland continues its six-week run with a special and very different series, filmed at Jools' creative home – his studio in South London.

Tonight, Dizzee Rascal joins Jools virtually from his studio to talk through his musical journey and some of the artists that were part of it.

April 27th: Help the NHS Charities
Jools Holland has kindly agreed to support the The Blue Auction, run by Bonhams auctioneers in aid of the NHS Charities, by donating the extraordinary opportunity for four people to join him and his Rhythm & Blues Orchestra at one of their live shows, including the Royal Albert Hall (Lot 11). They will be given special passes and meet Jools for a drink, before being thoroughly entertained by the uplifting live show. Date will need to be agreed in advance.

The online only auction finishes at 12 noon UK time, this Wednesday, 29th April, so be sure to get your bid in quickly by clicking here.

April 24th: Tour Dates 2021
We are delighted to announce that, following all the recent show cancellations due to Covid-19, we are re-booking shows for 2021 and the first few are now on sale. Click here for dates.

April 1st: Jools Holland Presents – #StayHome and Learn Boogie Woogie Piano #WithMe
In these trying days with people stuck at home, Jools will be giving fun free piano lessons to those stuck for some inspiration.

Taking the very basics of his beloved boogie-woogie piano, Jools will break down various musical techniques for everybody from complete novice upwards.

Even those bereft of a keyboard can still take part as Jools suggests: "If you donít have a piano, get Dad's shirt or Mum's tablecloth when they are not looking and draw piano keys on it and practice silently".

Lesson number 2 has just gone live today here and Lesson 3 will be joining soon. You can preview it on Jools' very own Instagram @ jools.holland.official

March 30th: Learn Boogie-Woogie Piano (Lesson One)



February 7th: Autumn/Winter Tour Now On Sale




For tour dates and tickets, click here.

February 4th: Autumn/Winter Tour 2020

Jools Holland and his celebrated Rhythm & Blues Orchestra are announcing their much-loved annual tour around the UK with Ruby Turner and her breath-taking gospel, soul, blues vocals, as well as Louise Marshall, whose mellifluous voice illuminates all she sings.

Also on tour is original Squeeze member and powerhouse Gilson Lavis on drums.


The tour will feature some really special guests: music legend Leo Sayer (on all dates but Ireland); original Squeeze chum Chris Difford (22nd October to 28th November, and 20th December); and, for three exclusive shows only, Ali Campbell and Astro from UB40 (7th November in Guildford and 13th & 14th November in London).

Tickets go on general sale this Friday, 7th February at 10.00am via Ticketmaster, See Tickets, Ticketline, and Stargreen, as well as the direct venue websites and are priced from £29.50 (+ booking fee), except the Royal Albert Hall concerts with tickets priced from £19.75 (+ booking fee) upwards. For dates and special guests details please go to www.joolsholland.com/tourdates.htm.

With a tremendous collection of Jools tunes and his styling of ska, boogie woogie and blues, this UK tour promises to be an extraordinary and unforgettable night out that will have audiences weeping and on their feet.

RADIO & TV
Later... with Jools Holland (15/05/20)
Private Passions (05/04/20)
Radio 2 Show

PRESS
Daily Mirror (24/05/20)
The Telegraph (14/05/20)
The Argus (16/12/19)
Daily Echo (15/12/19)
Shropshire Star (30/11/19)
The News (Show Review; 25/11/19)
The News (25/11/19)
Telegraph & Argus (21/11/19)
NottinghamshireLive (20/11/19)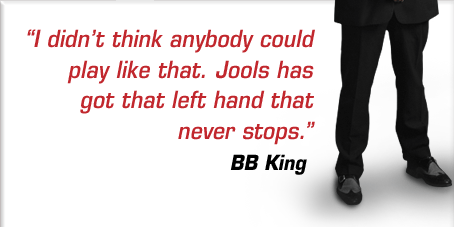 GDPR Statement | Copyright © 1999- Jools Holland. All rights reserved.